2009, Karin was awarded first prize in the Prix du Savoire-Faire category at the Recontres Internationales des Arts du Chapeau in Chazelles-sur-Lyon, France. Savoire-Faire can be translated with skills/expertise.
The picture shows the winning entry, made of petersham ribbon and velour felt. It can be varied by pulling out the crown, or folding it into a classic cap.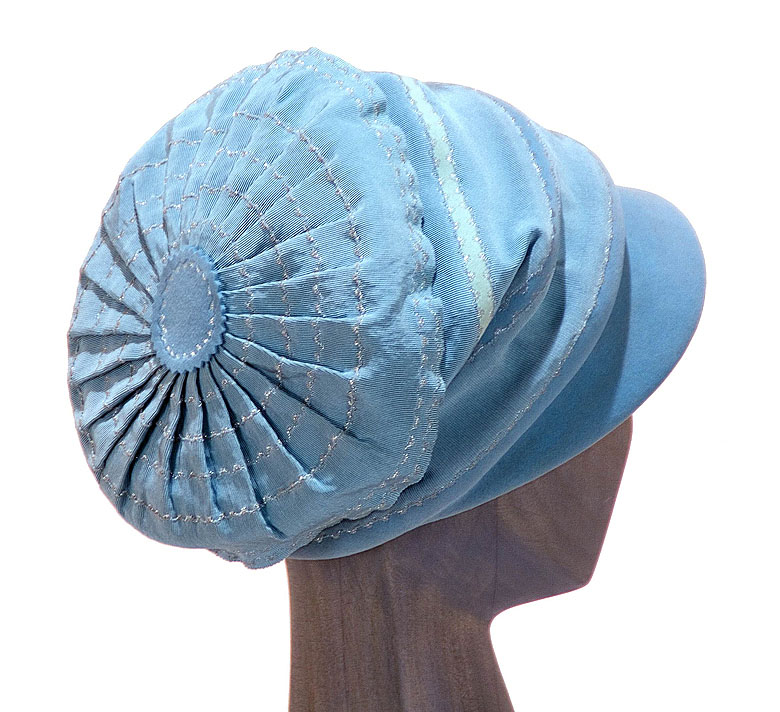 Karin Jatta grew up in Själevad, outside the town of Örnsköldsvik in northern Sweden. In the area, fur trade and fur handling is an important industry. There have been many skilled seamstresses in Karin's family.
She studied, a four-year course, Product Design at HDK, College of Design and Crafts, at the University of Gothenburg.
During her studies, she met Master Milliner Ingeborg Andersson, one of the few masters who remained in Sweden at that time. After an internship at her studio in Gothenburg, Karin presented an apprenticeship project in 1988. It was much appreciated in newspapers and magazines and purchased by the Textile Museum in Borås. Karin felt strengthened to continue working with her craft.
Karin participated in the juried exhibition "Artigenato dArte Swedese", where top Swedish craftsmanship was presented in Italy. The exhibition then toured in Sweden, and was shown at the Röhsska Museum in Göteborg
She moved towards the Swedish Arts & Craft movement. Joined a cooperative with a gallery and shop, which focused on Scandinavian arts and crafts. Through this, she made new contacts and opportunities to exhibit, and sell her hats.
In parallel with exhibitions and work in the cooperative, Karin had her own hat studio in central Gothenburg, under the name Adamou D-sign. During these years, Karin also freelanced with costume and scenography work, specializing in modern dance.
When Tillskärarakademin (School of Fashion and Stagecostume) in Gothenburg started a two-year program in millinary, Karin was hired as a teacher.
At the beginning of the 2000s, the conditions changed so Karin moved and restarted her studio, Jatta's hats, in Stockholm. Here she now has her base for manufacturing and orders.
Her hats were sold in the Mode Rosa hatstore in the Old Town in Stockholm. A store dating back to the 40's.
Other partners includes advertising agencies, vintage car companies, folk dancegroups, and stylists for fashion shows and magazines.
In 2004, Karin was contacted by Kent Wikström, then costume manager at Faluteatern, to assist with the rescue of the hatfactory CTH in Borlänge. This was the last hatfactory then remained in Sweden. The work resulted in a living industrial museum. In 2006, the National Heritage Board named the museum Museum of the Year. At the museum, all machines, tools and hat blocks are intact. Karin here, periodically, leads courses in classic hat making.
In connection with the museum work, a review was also made of the artist Karin Larsson's hats, at the Carl Larson Museum in Sundborn. Old hats were renovated, and replicas were made.
Karin Jatta can be booked for lectures and workshops.